L.O.A. : 4,80 m
Beam  : 1,65 m
Draught : 0,12/1,00 m
Keel weight : 80 Kg
Mainsail : 11 m2
Asymetrical spinnaker : 9 m2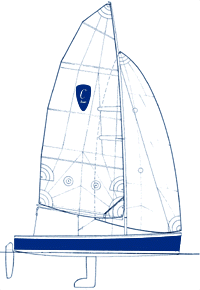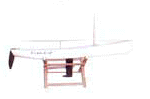 Hull : To answer to specifications, we drawn a boat with straight longitudinal lines and a straight stem for a maximum lenght at waterline. Slender and round front sections offer shape regularity when heeling, a reduced wet surface and a good manoeuvrability. The U-shaped median sections lock boat on chine for a good head to the wind and confer an important stability couple. The relatively flat bottom of the boat confers an high ability to planning. The rounded rear sections minimize drag of outflow. Breadth at rear eases good stability of course when sailing free.

Deck : Fully cleared, it eases movements on board from rear to front and from a side to another. Middle toe clip, foot straps and wide seats confer an important comfort for helmsman. The whole of sails settings are within helmsman's reach.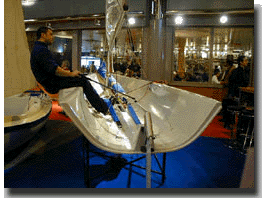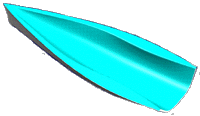 The rudder blade of high aspect ratio confers an high precision of steering for a perfect control of the whole.

KEEL AND RUDDER BLADE :
The swivelling keel of an high ballast ratio sets centre of gravity very deep, producing and important righting couple. The moderated aspect ratio reduces drag and takes part to the good manoeuvrability.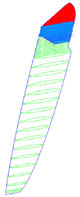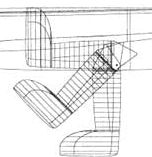 For use and transport easiness, the swivelling keel is fully retractable. This eventually permits the use of a standard sailing dinghy trolley.